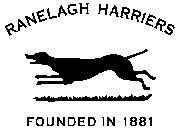 Ranelagh Harriers Running Club
Annual General Meeting.
Tuesday 2nd July 2019
MINUTES
Ranelagh Harriers Running Club
Annual General Meeting.
Tuesday 2nd July 2019
MINUTES
There being a quorum, Rebecca Curtis-Hall, President, called the meeting to order at 20:30.

1. APOLOGIES FOR ABSENCE
Apologies were received from the following members:
Carol Aikin, Beverley Ali, Marcus Atkins, Andy Bickerstaff, Brian Chard, Rob Curtis, Michele Gibson, Andy Hayward, Simon Hedger, John Herriott, Rodney Oliver, Alex Ring, Sonia Rowland, Steve Rowland, Tim Woods.
2. MINUTES OF THE 2018 AGM AND MATTERS ARISING
Approval of the 2018 AGM Minutes, circulated to members prior to the meeting was proposed by Alan Hedger and seconded by Chris Owens.

There were no matters arising.
3. Honorary Secretary's Review of the 2018/19 Season
The 2018/19 season of Ranelagh Harriers can probably best be characterised as a bit of a mixed bag with some very positive features, a number of challenges overcome and a few less positive outcomes.
Membership numbers as per England Athletics records remain strong at 344 (slightly higher than 12 months ago) as I write this report. Participation by club members, be it in attendance at mob matches, taking part in the Summer Road Race League (139 members took part in at least one race) and involvement in both the Tuesday evening club night and Thursday Osterley Park training sessions has been strong. Club members have continued to volunteer, particularly in marshalling the two high profile Ranelagh-sponsored spring road races, thereby ensuring the organisational success of these events. The club has a record number of leaders and coaches with at least a Lirf qualification assisting with the club's training programme. A successful coaches' training day was held at St Mary's in February and a new Advanced 2 group was established in part to replace the discontinued Ladies Racing group.
The Committee has faced and overcome several challenges and continues to address a number of issues under the leadership of our new President. The completed construction of a new access gate to and pathway within the club's property will hopefully lead to a more harmonious relationship with the lessees of the Dysart. The financial fallout from the unilateral termination of the contract by our kit supplier in April 2018 was sorted out at much lower cost to the club than looked likely early on, due in no small measure to the hard work of the Kit Steward and the support of the membership who enthusiastically participated in the sale of the surplus stock of kit. Several internet and social media savvy members have started a radical overhaul of the way the Club markets both itself and its sponsored races which has yielded immediate benefits in raising the club's profile while providing scope for significant future gains.
The AGM, which was held on 3 July 2018, saw the election of Ranelagh's second lady President, Becky Curtis-Hall, and Rebecca Northmore taking over as Ladies Team Captain. Attendance was hit by a clash with an England world cup game. However, proceedings were concluded quickly enabling attendees to get to the Roebuck in time for the penalty shoot-out! Before adjourning, however, the meeting did approve an increase in membership fees brought on by the steady inflation in England Athletics registration fees.
Competitively, the season was more notable for the performance of individuals rather than for teams representing the club. Ranelagh began the 2018 spring Road Race season in style, finishing 4 in the first 11 at the Towpath 10 on 7 April led home by Nick Impey in 3rd place. Not to be outdone the ladies finished 4 in 12 with Cordelia Parker 4th and Laura Blazey 5th. The London marathon outcome for Ranelagh was more modest with Nick Impey 1st male and new member and marathon debutante Alice Littler first lady home for the club. Freya Thomson was 3rd in the U17 girls' mini-marathon.
On a very hot day, a significant drop in entrants resulted in just 517 finishers in the Ranelagh Half compared with 661 in 2017. Andrius Jaksevicious of Belgrave won the race and Ted Mockett was first man home for Ranelagh in 14th and new member Holly McGuigan was third lady overall and first VL35. The race itself was well organised and thanks go once again to Sandra Forrest, Race Director. A few weeks later, Ranelagh men finished 2nd team and the Ladies 3rd team in the Green Belt Relay.
60 Ranelagh members took part in the Ranelagh 10km in June, organised successfully by new Race-Director Michael Morris. Ollie Garrod won the race, but Ranelagh took the men's team award and were third Ladies team. Despite the large number of members running, club volunteers were out in force. One note of concern was that in both the Ranelagh promoted races, net profits were much reduced compared with previous years.
The mini-mob match against Stragglers was held within the Crane Park parkrun at the end of June. Despite turning out over 80 runners, we were out-mobbed and went down to a 500 point defeat. Ted Mockett and Suzy Whatmough led the Ranelagh mob. Euan Sinclair was the winner of the delayed Junior Championship which was incorporated within the event and Seren Jones was first girl home.
The Coad Cup summer cross country handicap saw 57 finishers on a balmy evening in early July. Winner was Michael White with early starter Anne Childs bravely hanging on for second. Mark Leyshon (28:21) ran the fastest time by a significant margin. The Wedding Day 7km later in the month had 45 Ranelagh finishers, led home by Nick Impey, 4th in 24 minutes flat, and Laura Blazey was 3rd lady.
When all the points in the Surrey Road League were totted up, Seiko Angelo was declared 2nd VM50 and Fiona Ford 2nd VL45. The Men's Team came out 2nd overall and the Ladies 3rd Team, so well done to them. Fiona Ford and Nick Impey were both clear overall winners of the Ranelagh Road League.
The autumn cross country and road relay season kicked off as usual with the Thomas Cup on 8th September. 65 members completed the handicap race in good conditions. One of our young members, Eilidh Sinclair was a clear winner, a complete contrast with her experience in the deluge conditions of the previous year, and George Howard ran the fastest time of 21:54. New handicapper Simon Martin managed to get 50 runners home within 4 minutes.
The Surrey Road Relay Championships on 15th September in Wimbledon Park yielded only one set of medals, Silver in the Ladies V35 category. Ranelagh failed to finish a team in either the men's or the ladies' Southern Road Relay. However, a Ladies team managed 38th in the National Road Relay Champs in Birmingham on 6 October and 13th in the South of England Cross Country relay at Wormwood Scrubs on 20th October.
And so we come to the Surrey Cross Country League. With a strong Guilford team promoted from Division 2 and with several fast runners not available this year, the Men's team knew that they would have difficulties this year. And so it proved. The first race was expertly organised by Andy Bickerstaff and his squad in Richmond Park. For Ranelagh, only Anthony Haynes featured at the front with the remaining scorers all well back in the field such that the team was 8th out of 9 on the day. The same pattern was repeated in the three subsequent fixtures with only Anthony, Ben Anderson and Ralph Street able to mix it with the leaders when they were available to run. Consequently, Ranelagh remained anchored in 8th position and was duly relegated at the end of the season, after 8 consecutive seasons in the top flight. Hopefully, we will bounce back.
The Ladies performed consistently throughout the season and the team fared better. In the first race on Wimbledon Common, Gill Sanders was an excellent 2nd and the team 6th. In the second race at Nonsuch Park, the Team improved to 3rd with, most encouragingly, two U17s Freya Thomson and Izzy Atkins in the scoring 5. In the third fixture, the team slipped to 7th on the day with Cordelia Parker leading them home in 12th and at the final, rearranged fixture in Lloyd Park, Suzy Whatmough led the team home in 19th position and the team again closed in 7th. Overall the Ladies team were a solid sixth in the League.
Of the mob matches, 2 were won and 2 lost. Ranelagh took a decent mob to Orion on 4th November, but scoring 42 a side we were outnumbered 2 to 1 and heavily defeated though not disgraced. Who actually won the Thames Mob Match in Richmond on 24th November will forever remain shrouded in mystery. However, after numerous recounts, Thames were declared winners by a very small margin. George Howard won the Hastings Veterans Championships held in conjunction with the race. Suzy Whatmough was first lady overall and Pat Wright first Ranelagh man home.
Ben Anderson's victory in the SLH mob match, again at home in Richmond, brought him the Club Championship in a fixture where Ranelagh outnumbered SLH 60-24 and recorded an easy victory. The fixture against Blackheath on a new course in Hayes on 3 March was rather an anti-climax as our hosts only turned out 14 runners compared with our 39 strong mob. Eirin McDaid, Marc Leyshon and Graham Brook gave Ranelagh a clean sweep and an overwhelming victory was never in doubt.
In the Surrey Championships, the Ladies team was third and Gill Sanders finished 4th individual. For the men Ben Anderson was first home in 12th. The Middlesex championships saw probably the standout Ranelagh performances of the year as Freya Thomson won and Alice Paterson was 2nd and supported by Jenny Silva, Ranelagh won the Ladies' U20 team race. With Izzy Atkins forth in the U17 race and Nick Impey 12th in the Men's race, our Middx contingent had a successful day.
A veil should be drawn over Ranelagh's team performances in both the Southern Championships at Parliament Hill, with only Izzy Atkins, 25th in the U17s, Holly McGuigan 77th in the Ladies and Graham Brook in 209th in the Men's race really doing themselves justice. At least the Ladies finished a scoring team as they did at the National Championships in Leeds which is more than can be said for the Men in either event. Surely we can and should do better.
Participation in the Winter 2019 handicaps was sparse. Mike Peace won the Clutton by a country mile and Alan Lang, shortly after to turn 80, showed the field a clean pair of heels in the Baker Cup.
One bright note for the future was the participation of 20 young Ranelagh runners in the juniors' race, run in conjunction with the Ellis Cup fixture. Perhaps the hard work being put in by the junior coaches Maia Rushby and Colin Brett is beginning to yield dividends.
Individual performances of note included international orienteering honours at and outstanding performances by Ralph Street at European and World Championship level, Inter Counties selection for Middx at Loughborough in March 2019 for Alice Patterson (75th WU20) and Izzy Atkins (86th WU17) and a sub 2 hours 30 marathon in Tokyo from Nick Impey. Evergreen Peter Haarer, newly turned 50, went straight to the top of the club V50 rankings with a 74:49 half marathon at Oxford in October 2018. Finally, Golden Oldie Chris Owens won the 65-69 age-group title at the World Biathlon Championships in Odense Denmark in July 2018.
4. HON TREASURER'S REPORT FOR THE 2018/19 YEAR
Financial Highlights
Income and Expenditure Account
The net deficit for the year increased from £3,532 to £4,219. Without the write back of the 125 year reserve, which is described below, the loss would have been £8,033. The club experienced a net cash outflow of £7,606. I set out some of the reasons for this below.
Race profits dropped from £6,347 in the previous year to £1,336 in the current year. This reflects lower numbers of entries, which is probably due to the increasing number of competing events.
As was reported to last year's AGM Alley Catz made a claim against the club totalling £6,452, in relation to kit stock purchased by Alley Catz and not sold by them. The claim was settled by the club purchasing the stock from Alley Catz and trying to sell it, resulting in a loss on kit sales of £1,455. Thanks go to Gordon Whitson and Marianne Malam without whose work this loss would have been significantly larger.
During the current year work on upgrading the gas supply and construction of a new path of total cost £9,385 was completed. This resulted in an increase in the depreciation charge of £939.
Balance Sheet
The balance sheet still looks relatively strong despite the deficit for the year. At the year end date we had just over £127,000 in the bank. In the medium term we should aim to get at least back to a break even position. However we are not in immediate danger of running out of money.
In 2006 a former president, Brian Chard made a donation to enable the club to celebrate its 125 year anniversary. £3,814 of this amount was not spent for this purpose and was held in a reserve. During the current year Brian has confirmed that he will not request repayment of this amount. The reserve has been written back and the Committee plans to use to funds to continue to subsidise track hire.
Future Prospects
The 2018 AGM agreed increases to subscription rates which took effect in April 2019. This should increase club income but on its own is unlikely to return the income and expenditure account to break even.
Efforts are under way to improve race profitability. Depending on how successful this is and what happens to costs over the year ahead we may have to propose further measures to improve club finances.
Thanks
The club remains indebted to the many members who give their time free of charge throughout the year. Without the efforts of these members the club would not be financially viable. In particular I would like to thank John Herriott and Deepa Sharma for serving as assistant treasurers and Anna Reichwald for serving as honorary auditor.
Christopher Read – Treasurer
5. Officers and Club Roles for the 2019/20 Season
Elected Roles
| | | |
| --- | --- | --- |
| Role | 2018/2019 Season | Offering to Serve for 2019/20 Season |
| President | Becky Curtis-Hall | Yes |
| Secretary | Gordon Whitson | Yes |
| Treasurer | Chris Read | Yes |
| Assistant Treasurer | Deepa Sharma, John Herriott | Yes |
| Men's Captain | Phil Killingley | Richard Kimber |
| Women's Captain | Rebecca Northmore | Yes |
| Fixture Secretary | Rick Jenner | Yes |
| Chief Race Official | Andy Bickerstaff | Yes |
| Premises Managers | Clive Naish | Yes |
| Catering Manager | Carol Barnshaw | Yes |
| Social Secretaries | Michele Gibson/Andy Hayward | ? |
| Press Officer | Steve Rowland | Yes |
| Kit Steward | Marianne Malam | Yes |
| Membership Secretary | Chris Owens | Yes |
| Auditor | Anna Reichwald | Yes |
Committee Appointed Roles
Role
2018/19 Season
2019/20 Season
Data Protection Officer
Hon Secretary – ex officio
Yes
Handicapper
Simon Martin

Yes

Welfare Officer
Rob Curtis

Yes
Non-Elected Roles
Role
2018/19 Season
2019/20 Season
Men's Vice Captain
Dave Lawley, Jonathan Smith
Yes
Women's Vice Captain
Marianne Malam, Suzy Whatmough.
Yes
Women's Team Manager
Phil Aiken
Yes
Junior Team Manager
Vacant
?
Assistant Membership Secretary
Vacant
?
Half Marathon Race Director
Sandra Forrest
Yes
10K Race Director
Michael Morris
No
Trophy Steward
Ted Mockett
Yes
Statistician
Ken Powley
Yes
Gazette Editor
Julian Smith
Yes
E-News Editor
Steve Rowland
Yes
Schools Race Co-ordinator
Julian Smith
Yes
Assistant Chief Race Official
Paul Rider
Yes
Club Archivist
Steve Rowland
Yes
Road G.P. Co-ordinator
Steve Rowland, Ken Powley
Yes
Community Liaison
Andy Hayward
Yes
Club Coaches
Deborah Blakemore, Colin Brett, Cindy Croucher, Peter Faull, Vicci Hollis, Phil Killingley, Wiebke Kortum, Trevor Maguire, Chris Read, Maia Rushby, Rachel Revett, Sue Sinclair, Helen Nance, Martin Nance, Lloyd Camp, John Herriot, Becky Curtis-Hall, Marc Snaith, Rick Jenner, Bev Ali, Simon Martin, Julia Bailey, Daniel Chiechi, Ed Barker, George Howard, Katie Walton, Gordon Whitson.
Add: Marcus Atkins, Tasmin Burland,Tor Heron-Brett, Emily Coulson, Andrew Kew, Rebecca Northmore, Philip Roberts.

Delete: Becky Curtis Hall, Peter Faull.
6. ANY OTHER BUSINESS
There being no other business, the president declared the meeting closed at 20.58.