Twelve of the Best with... Bill Bird
Background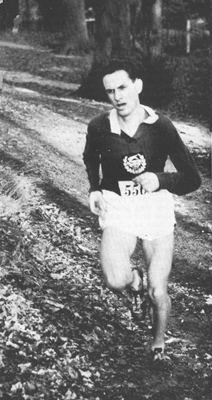 Bill Bird was a fifteen year-old pupil at Emanuel School in Wandsworth when in 1950 he became a member of Ranelagh Harriers. At that time, the school used Ranelagh's changing rooms for their Wednesday afternoon cross-country and it followed naturally that the keenest boys would join the club. Ranelagh itself was only just beginning to emerge from its struggle for survival in the immediate post-war years, and the arrival of Bill - soon nicknamed Dicky - and his Emanuel contemporaries Alan Hedger and Jeff Bull provided just the fillip the club needed.
Bill showed immense promise from the outset and won his first club championship while still a junior. He went on to put his name on the trophy seven more times and led the club as a dynamic Captain from 1956 to 1965. He won the Surrey 6 miles track championship in 1956 and the South of the Thames short race the following year (pictured right).
After helping to organise and taking part in our successful Pennine Way Relay record attempt in 1971, Bill undertook the 270 miles run solo and set a new record of 33hrs 41mins.
Bill assumed the club Presidency in 1982 and served until 1988. In that year he was elected President of the Surrey County AA, and notched up his third Presidency when he took on that role with the South of the Thames Association. More recently he acted as Hon Sec of the Surrey Cross-Country League for almost twenty years.
1. How did you get involved with Ranelagh?
My school, Emanuel, had several members and it was suggested by the gym teacher I should go along when I was 14, after he told us to run right round the games field, I guess nearly a mile. I joined at 15 and ran my first race in the Thomas Cup of 1950. The club were very encouraging, especially the Secretary 'Flash' Gardner and the Junior Captain, aged 35 and an old boy of Emanuel, Carl Nargang.
2. Years active and when did you peak?
1950 to 1985 and I suppose I peaked between 1957 and 1966.
3. What is your favourite race and distance?
Clubwise, the Thomas Cup when running from scratch. You had someone to attack the whole way. Outside club events it has got to be the National when it was run over 9 miles. However my best memories were not races as such but the times in the Yorkshire Dales when, with a group of friends, just running all day and the sun seemed to shine all the time!
4. Favourite Ranelagh course?
The old 4 mile course in use till 1964 when it had to be changed to the present course because of the traffic.
5. Running heroes and inspirations?
Emile Zatopek and Gordon Pirie.
6. Typical training for the summer and winter? (what races were you training for?)
Winter; I would try to run in a pack 4 nights a week over 7-10 miles, with as many long hills as possible. The pack would stay together on the flat and two thirds up the hills and then it would then be up to you to go as hard as you wished right through the top. Friday evening solo run of either 5 easy if race next day or 10 miles hard if not. Saturday race or 7-10 miles fartlek, preferably in a pack. Sunday up to 15 mile steady run. That is 7 days a week, in reality it worked out to 4/5 sessions a week because of work/family commitments. The races were 3- 10 miles, mainly on the country, but with some road relays.
Summer; when concentrating on the track I would try to get in two sessions of 10/12 440yds of 62 secs. each with a 440 fast jog between. Then a couple of meetings and the other three days with long fartlek sessions covering 7 to 10 miles. If road racing was my priority I would do a similar routine as the winter but with more runs by myself and on evenings when time was short a very hard (?racing) 5 miles. Again it probably worked out to 4/5 sessions because life got in the way. The track races were half mile to six and road 5 to 10 miles with a few 20s and some marathons in my later years but I consider I never trained properly for those. Out of interest my highest annual mileage was 2300 and I did manage 100 in one week, but after lying awake on the sixth night trying to work out how I would achieve it on the 7th day I never bothered again trying to hit artificial figures.
7. Favourite session?
Taking the question literally was the one I did with the Milner twins, both 4 mins milers, and Chris. Strange. I went down to Walton track and joined their session of 2x halfmile and a three quarter to finish with two minutes rest. It went 2.04, 2.03.5 and 3.08.5 and felt easy. I was then doing 7-10 mile road races. It was one of those evenings.
In general terms I always looked forward to the runs I had with the Walton road running crew that John Hanscomb knew so well. We would just have an easy 15 miles on a Sunday morning in an hour and a half.
8. What were your training paces?
I think I have covered that, but I would add that I felt it necessary to do part of most sessions at or near racing pace, otherwise it comes as a shock!
9. What strength work did you do?
If the weather was bad or I got to the changing rooms before my mates I improvised a circuit consisting of fast repetitions of exercises and weights, 3 lbs I seem to recall. Probably did this twice a week in the winter.
10. Favourite running memory?
The Leyton to Southend relay when as 100 to 1 outsiders we slaughtered the opposition by two mins. A wonderful day for the club and personally I had the pleasure of taking 2 mins. off the Surrey XC champion and 30 secs off Frank Seal a newly capped international.
11. Best piece of running advice?
The point in any race over the country or on the roads when the pace drops the lowest is about 7/8ths of the way up a hill. If you have trained for that and have gained the confidence, as your opponent drops from 10 to 8 mph and you don't, not only is he demoralised but that speed differential will open up a bigger gap then than anywhere else.
12. What changes have you seen in the sport?
A vast increase in the ages and numbers of runners. The welcome treatment of women as equal participants. The regrettable change from the long and tested fixture list that produced so many fine athletes in the 50-70s. The dubious advantages of the scientific approach of today against the sheer hard work in training that was the norm after the last war. It seems to a cynic like me that all the improvements in tracks, gear and financial backing have not really justified the results, especially over the middle and long distances.