Twelve of the Best with... Bill Harvey
Background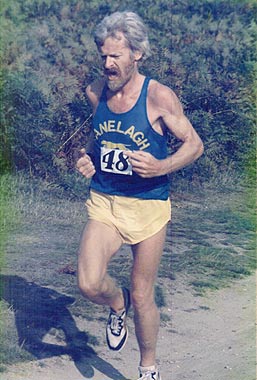 Bill Harvey was born in 1941 and was educated at Birmingham University where he obtained a BSc in mathematics in 1962 and a PhD four years later. Six years in the USA followed before Bill took up a post at King's College, London, where, apart from two or three short sabbaticals, he has remained ever since. He retired from full-time teaching in 2007 and is now an Emeritus Reader in Maths.
His first appearance in Richmond Park was in December 1961 when Ranelagh hosted Birmingham University and Imperial College. Bill finished 11th, ahead of his friend and team-mate Ian Milne. Ian went on to join Ranelagh and when Bill moved to London in 1972 he followed suit. He very quickly became a valuable member of the first team and in only his second season he won the Wynne Cup club championship. He went on to put his name at least once on nearly all of the club road and cross-country championship trophies, including the veterans' awards. He won club honours in 1974. Bill continued to run at a high standard well into veteran status and his name features highly in all of our vets road ranking lists with performances such as 31.44 for 10km and 52.06 for 10 miles as an over 40 and 34.31 and 57.09 as an over 50. He also holds the club records for over 50s on four of our Richmond Park courses. He has racked up 88 mob matches and has appeared in our Surrey League scoring team 35 times.
1. How did you get involved with Ranelagh?
Running has always provided me with something special, part of how I function as an individual day to day. I first ran in Richmond Park against Ranelagh with Birmingham University in 1961, and fell in love with the park.
I joined Ranelagh in summer 1972, after spending 6 years in New York, where I took up serious running with the New York Pioneer Club, along with Ted Corbitt, a famous US marathon and ultra runner -- same club as Bob Beamon of Mexico Olympics long jump fame. When I moved to London, I joined Ranelagh because Richmond Park is such a fine place to run and my old friend Ian Milne from university was already a member. It turned out to be the ideal club for me, with a wide range of different types of running at all levels and warm social life, great friends for training and refuelling at the Dysart -- in those days the landlord was a kindred spirit and Wednesday evenings in the pub were special, although the beer was pretty foul at times, when the pipes needed cleaning.
2. Years active and when did you peak?
I ran a bit at university from 1959 on, mainly enjoying the social aspect at first, but then started road running, moving up to marathons in 1967. I kept this up with Ranelagh from 1972 but also got faster on the country thanks to some more intensive speed training. My best years as a marathoner were probably in New York, 1967-72; I was less successful here on the country, but managed some good performances, best placing 59th in the Southern, 160th in the National, mostly on firm going.
3. What is your favourite race and distance?
10 miles road, where you tended to get a steady start with a sudden long surge after a mile or so; never broke 50 minutes but managed 51 45 (sub 5-minute pace) at Maidenhead.
4. Favourite Ranelagh course?
The old standard 3.8 mile loop without the climb into the woods.
5. Running heroes and inspirations?
Chris Chataway, with his famous 5000 victory over Kuts at White City. Kuts died before reaching 50, but Chatway 's still running; until a few years ago I used to see him out in N London near my home. Also Abebe Bikila, the greatest marathoner since Pheidippides.
6. Typical training for the summer and winter? (what races were you training for?)
Twice a week I ran 3 miles to work, trained 5miles at lunchtime and 3m home in the evening. The other days just the 3mile runs. At least 12 miles slow on Sundays. One speed session a week, and a day off before races.
7. Favourite session?
A regular training loop of about 8 miles from King's College on the Embankment through all the parks to Kensington Gardens and back. Variable pace if I felt good or if Dave Wright was around.
8. What were your training paces?
Usually trained at 6 minute pace or quicker, except Sundays. Sometimes 3 or 4 five minute miles with 1or 2 min recovery. Not fond of the track, so I'm no help on speed sessions -- I mainly did fartlek, perhaps 8 or 10 two minute efforts with 1 min recovery.
9. What strength work did you do?
Winter runs on Hampstead Heath; pretty good mud up there. Training for marathons, I'd build up to run further every day getting to 80 miles average over 4 weeks, with 20+ miles on Sunday.
10. Favourite running memory?
Leading the entire second lap of the Hyde Park Relay one year for the ULU team, being chased, but not caught, by the likes of Andy Holden. Charlie Spedding had just run sub-13 20 on the first leg to hand me a lead of about 200 yards, and I went off like a scalded cat, scared stiff, dodging people with prams and just expecting to be caught; amazing feeling to finish still fairly well clear.
11. Best piece of running advice?
Get lots of sleep after hard sessions and races; beer always helped me to relax, but these days they say it inhibits building and repairing muscle. Train a lot on grass: never increase your training distance more than 10% in successive weeks. And don't run flat out more than twice a week.
12. What changes have you seen in the sport?
Fewer committed young runners. A huge increase in the number of joggers and many more old duffers like me.