Twelve of the Best with... David Wright
Background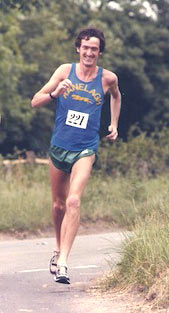 David Wright was a 17 year-old schoolboy at Raynes Park School when he joined Ranelagh Harriers in 1974. Jim Forrest was a teacher there at the time and recruited not only David but also Anthony Orr who went on to become Surrey Junior Cross-Country champion in 1976. The club had a very strong junior section at this time and David was a member of the Ranelagh team – together with Hugh Jones, Tim Woods and Kevin Harrison - which won bronze medals in the Southern Junior Championship in the same year, despite the absence of Orr and Malcolm East.
David became a reliable and essential part of the club's first team for more than a decade. The statistics speak for themselves – 45 times in our Surrey League scoring team, ten times in both the National and South of the Thames teams and seven times in the Southern; and that's to ignore the most remarkable statistic of all, which is that he has completed 143 mob matches (and counting). David has missed only one since joining the club – after 97 consecutive a bout of flu laid him low. "The old fixture cards used to state that members were expected to run in all mob matches, so I felt obliged to do so; I have run 84 mobs since moving to Cirencester in 1990, which amounts to some 17,000 'mob match miles' in the car, so I'm afraid my green credentials are not great!"
David's ambitions gradually moved towards the longer distances and in 1981 he received the club honours award for beating 2 hours 30 minutes in the London Marathon. By 1983 he had reduced his personal best to 2:23.12 in New York. In 1985 he won the Southern 20 miles championship in 1:47.39 as part of his build-up to winning the RRC Marathon on the very tough Isle of Wight course in 2:32.07.
He won at various times the Wynne Cup club cross-country championship, the Winter Cup club marathon championship and the Spendlove Cup club 20 miles championship no fewer than eight times. In later years he also won the Hastings and McDowell veterans' trophies. He was an enthusiastic club Captain from 1981 to 1987.
David relocated to Cirencester in 1990 and joined the local club but retained his ties to Ranelagh.
He has become involved in coaching and mentoring athletes in recent years, including internationals Wendy Nicholls (Jones) and Michelle Ross-Cope amongst others. Although injuries are now curtailing his own running he did manage to run a 34:10 10km in 2009 to take second place in Ranelagh's all-time over 50 rankings.
Personal bests: 24.34 (5m), 30.50 (10k), 51.00 (10m), 68.30 (half marathon), 2.23.12 (marathon).
1. How did you get involved with Ranelagh?
Jim Forrest was my chemistry teacher at school (Raynes Park GS) and suggested running in a mob match when I was in the sixth form. I then started coming down on a Wednesday evening and couldn't believe the camaraderie in the pub afterwards between such diverse people: students/pensioners, first teamers/leisure runners, barristers/bar tenders, all enjoying a beer together after training. This was the club for me and was something to do between cricket seasons!
2. Years active and when did you peak?
Still active, just about! Best years were 1982-1986 (aged 25-29).
3. What is your favourite race and distance?
Difficult. Favourite race distance was probably 20 miles, not as a build-up to a marathon as it is today (a mistake in my view), but as an entity in itself. A real favourite was the Barendrecht 100km track relay in Holland. A four man team each ran 62 x 400 metres on the track (i.e. 25km). Running is an individual sport but this event encapsulated everything that can be good about the team (Ranelagh won the event four times, averaging 68 seconds for each of the 250 laps in the fastest year). The beer afterwards always tasted good as well! I would have to add two other races: the New York City Marathon - which I was lucky enough to do six times - because of the significance of the route through the five boroughs and for the diverse crowd experienced throughout; plus the Newport to Tredegar 21 miles race up through the drab Welsh mining valleys on a cold, wet Sunday in December the day after a mob match - character building!
4. Favourite Ranelagh course?
The old 3 mile Baker Cup course on the flat roads around Ham Common. Two laps with the first starters (Harry Sheer then Gordon Seconde for many years) on their second lap before the scratch runners started. Used to enjoy the old 10 mile road race held in the park for the Callis Cup as well.
5. Running heroes and inspirations?
No real heroes, apart from Alf Tupper of course, but plenty who inspired. Initially Jim Forrest, who used to regale us during tutor periods with his running exploits in South Africa; Mike Gleed, my biology teacher, who organised the school's running club and instilled in me the commitment needed to succeed at sport - if you commit to a team you turnout every week was his mantra; George Thomas, a lovely Australian guy who joined Ranelagh and took me under his wing (he tragically died aged 43), and who could fail to be inspired by the achievements of Hugh Jones & Malcolm East, both contemporaries of mine.
6. Typical training for the summer and winter? (what races were you training for?)
Basically followed a 12 month regime, the only difference being track sessions on a Tuesday in summer and Richmond Hill efforts in winter. Main targets were generally a spring & autumn marathon. Aim was for year-on-year improvement which necessitated ongoing training virtually without a break. Trained twice every day apart from Wednesday (once). Easy morning run then hanging on to Bill Harvey in Hyde Park at lunchtimes on what today would be called tempo runs; track/hill on Tuesday; club run Wednesday (lap of park starting slowly, building to around 5 min miling at times, a few easy miles to finish, around 13 in total); long intervals or race Saturday, and 20 miler Sunday. Generally around 90 miles.
7. Favourite session?
62 x 400 off 3.5 minutes (see above)! Otherwise Wednesday's club run which, although not a session as such, formed the basis of my development as a runner.
8. What were your training paces?
Who knows, no Garmins in my day! Easy morning runs probably 7.5 min miling. Lunchtimes 5.30/45. Long Sunday run Iâ??d guess at 6.30/45.
9. What strength work did you do?
None
10. Favourite running memory?
Probably winning the Finchley 20 in 1.47 having clawed back 30 seconds on the leader in the last 5 mile lap (wife Claudie got a big shock at the finish!). My only marathon victory, 2.32 on the notoriously tough Isle of Wight course and in 80 degrees afternoon heat, is up there too. Have to slot in the club's Pennine Way relay attempts which were epic journeys with like-minded friends.
11. Best piece of running advice?
Decide on a running regime that best suits your lifestyle, then stick to it. Set a long term target that seems way out of reach. With structured ongoing training it will eventually heave into view (thank you George).
12. What changes have you seen in the sport?
Where to start? Mass participation through the advent of the London Marathon has to be the most striking change, so we at Ranelagh have a lot to answer for. Here is not the place to discuss the merits or otherwise of this change but at least participation levels are at an all time high and one is no longer seen as an oddball when out training. Thankfully Ranelagh has survived more or less intact and as a country member these days it's gratifying to see a full club house on mob match days.