History of the Ranelagh Harriers
---
What's a Ranelagh?
The name originally comes from a district of Dublin. A family of Anglo-Irish peers held the title of Lord Ranelagh and their London estates were in the Putney and Fulham areas. Although the title is now extinct a number of roads and parks retain the name to this day, including Ranelagh Gardens, home of the Chelsea Flower Show. Many sports clubs also took on the name, including the Ranelagh Cricket Club; it was members of this club who, looking for some activity to keep them-selves fit in the winter months, formed Ranelagh Harriers in September 1881.
The Early Days
Ranelagh Harriers was founded in 1881, and so is one of the oldest athletics clubs in the country. It was one of the founder members of the English Cross Country Union in 1883 and is now one of only eleven of those founder members still in existence. The club's first home was at the Green Man on Putney Heath and the earliest recorded runs were out to the Windmill on Wimbledon Common and back.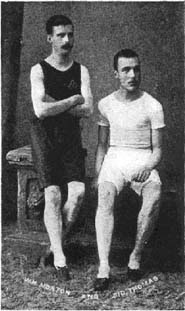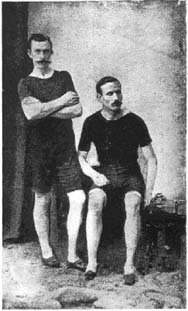 Redevelopment forced the club to look for a new home during the mid-1930s, and a suitable site was found in an old pavilion at the back of the Dysart Arms, right on the edge of Richmond Park. New courses were quickly devised in the Park and the club settled in, only for activities to be interrupted by the war, when even those still at home were unable to use the Park which was closed for the duration.
Post War
The end of hostilities brought a period of struggle for survival for Ranelagh, but by the mid-1950s things were on the upturn again, and the club started to look at improving its accomodation at the Dysart. In 1967 a new pre-fabricated dressing room was erected, though the old ramshackle bath-house was still in use. After further years of fund-raising our new purpose-built clubhouse was finally opened in 1988 and the process was completed in 1995 with the purchase of the land on which the clubhouse stands - giving Ranelagh security of tenure in perpetuity.