Twelve of the Best with... Jim Forrest
Background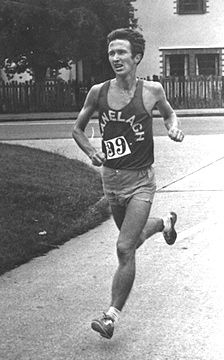 Jim was born in Guildford in 1943 and led a peripatetic childhood until his parents eventually settled in Richmond. He attended Westminster School as a day boy from 1957 and it was there that he was first introduced to competitive running, though initially as a sprinter. A family holiday in Switzerland inspired him to run on the mountain paths and on his return home he took to regular jaunts in Richmond Park. One day in the Park he bumped into Bill Bird and Alan Hedger who invited him to join Ranelagh, and he made his club debut shortly after his eighteenth birthday in the mob match against Orion Harriers in 1961.
After leaving school Jim went up to Oxford University to study chemistry. He became Captain of the cross-country second team but just failed to secure a blue. After graduating he taught in Lesotho for a year before taking up a job as a research chemist with BP. He quickly decided that this was not the life for him and retrained as a teacher. Part of his teaching practice was at Latymer Upper School, and he helped to introduce a number of Latymer boys to Ranelagh, including the 14 year-old Hugh Jones. Subsequently Jim taught at Raynes Park HS and his recruits from there included Anthony Orr and David Wright.
Jim was club captain from 1969 to 1977 and again for our centenary year 1980-81. He was also joint editor of the club Gazette from 1969 to 1975. In 1970 he became one of the club's first qualified coaches and advised many of our first team runners in the 1970s and 80s. He was a regular first team runner for many years, three times winning the Roffey Salver as the club's first finisher in the National Championships. To date he has clocked up 114 mob matches - only three members have finished more. Latterly Jim became interested in the longer distances, completing the London to Brighton in 6hrs 17mins, winning the Ridgeway 40 miles, and setting a record time of 11hrs 8mins 46secs for the South Downs Way solo, which stood unbeaten for thirteen years.
1. How did you get involved with Ranelagh?
Ran across Bill Bird and Alan Hedger (club captain and vice captain) on a run round the park while training for school cross-country. Alan was bigger than me so I didn't argue when they said "Join us". Ran first mob match within 3 weeks, home against Orion Harriers, in 50 mins.
2. Years active and when did you peak?
Active 1963-88 and best times on the track in the late 60s and early 70s. Best x-c and road runs mid 1970s.
3. What is your favourite race and distance?
Relays, mob matches and ultra-distances, including Pennine Way and South Downs relays. Best distance was 10 miles upwards. I would have liked to have had more speed for the middle distances, but I just didn't have it!
4. Favourite Ranelagh course?
The 5 miler.
5. Running heroes and inspirations?
Zatopek, Elliott, Bedford, Ovett. Inside Ranelagh, Bill Bird was the inspiration of my generation and Hugh Jones later on.
6. Typical training for the summer and winter? (what races were you training for?)
Winter;
For our own x-c races.
60 miles per week, generally once a day,
Over 15 miles on Sunday morning
at least one hill session (e.g. Nightingale Lane or the big park slope opposite the Dysart)
at least one paarlauf or fartlek session each week, sometimes an Indian File fartlek
We tried to run in all club races, racing within ourselves in some and peaking for the Surrey league and the championships. I would rest on Fridays before a major race and just visualise it and build up the nervous energy.
Summer
For road and track.
50 miles per week, once a day
Long steady run on Sunday (ca 12 miles)
Track sessions on Tuesdays (longer intervals, e.g 5x 800 in 2.20 or pyramids (favourite session)
On Thursdays (shorter intervals, e.g. 2x 6 x300 in 48). If a 20-miler or marathon was coming up I'd want longer intervals than this, e.g 4x1200.
1st team pack run in park on Wednesdays, often with some fartlek
In winter and summer I liked to alternate between easy and hard training runs.
7. Favourite session?
Indian File fartlek for the sheer drama of it all! (But you need people of roughly similar standards).
8. What were your training paces?
6 minute miles for steady runs, sub-5 minute miling for the faster stuff.
9. What strength work did you do?
Weights (e.g. bench press, upright rowing, half squats, sometimes as part of circuit training). Also hill training. And I did try running on ploughed fields in my school CCF army boots, a la Zatopek, but I soon found that I wasn't Emil Zatopek and ditched the idea!
10. Favourite running memory?
The amazing club spirit in our Pennine Way relays, especially the first relay in 1971, when we beat the record. You ran like the wind, because you had 23 other clubmates willing you on. Also the thrill of the first 200m of the National eyeballs out.
11. Best piece of running advice?
Keep up your speedwork regularly throughout the year, no matter how hard it sometimes feels.
12. What changes have you seen in the sport?
Terrific mass participation in races (10ks, marathons, etc), which should lead to a fitter nation. Also the growth of women's middle and long distance athletics over the last 50 years. However, fewer high class GB male athletes now and cross-country now has a lower profile in the media a shame because it is a superb sport, encompassing effort, competition & friendship.
The new Ranelagh club house and its showers made life less Spartan for us. When I started at the club we washed ourselves down in tin baths in muddy, rapidly cooling water (unless you were first back to the clubhouse!)