Twelve of the Best with... Priscilla Welch
Background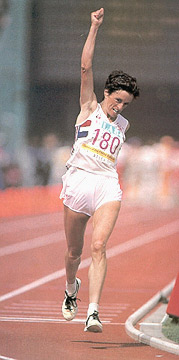 Priscilla Welch's story is a fairy-tale to inspire any late starter. Formerly a 20-a-day smoker, she began jogging in 1978 at the age of 34 simply to combat boredom while posted to Norway with the Navy. There she met her husband-to-be Dave, also a serviceman, and he encouraged her to try her first marathon in Stockholm, which she finished in 3.26. By 1981 Priscilla had cracked the three hours barrier and despite a move to the Shetlands she continued to improve steadily down to 2.39 in the 1983 London Marathon. Priscilla had left the Navy by this time and when Dave's Army career came to an end in 1984 the couple moved to Kingston, where Dave managed an outdoor goods shop. It was a chance encounter there that led to Dave and Priscilla becoming members of Ranelagh.
The 1984 London Marathon provided the huge breakthrough for Priscilla, as she finished 2nd in 2.30.06, a performance which earned her selection for that summer's Olympic Games in Los Angeles. She and Hugh Jones became Ranelagh's first Olympians since 1908. In Los Angeles, just three months short of her 40th birthday, she ran another stunning race to finish 6th in a British record of 2.28.54. Much of her preparation for Los Angeles had taken place in Boulder, Colorado, and this now became the Welchs' permanent base in order to take full advantage of the lucrative US road running circuit.
The best was yet to come. In 1987, now 42 years old, Priscilla returned to the London Marathon and again finished in 2nd place in a new British record of 2.26.50, a performance that today still ranks 4th in Britain's all-time list behind Paula Radcliffe, Mara Yamauchi and Veronique Marot. Hugh Jones and Priscilla were selected for that summer's World Championships in Rome. Priscilla, however, declined selection, preferring to concentrate on preparing for the following year's Seoul Olympic Games. She secured her selection with a win in that November's New York City marathon and 4th place in April's Boston race, both in 2.30, but injury prevented her taking her place in Seoul just as it did for Hugh Jones.
Priscilla continued to run at a high level in the States for several more years before breast cancer in 1992 brought her serious running career to an end. In 2003 Runner's World magazine voted her the best-ever female masters marathoner.
Personal Bests: 16.13 (5k), 26.26 (5m), 32.25 (10k), 53.51 (10m), 73.06 (half marathon, but 71.04 on a slightly short course), 2:26.51 (marathon)
Thanks to George Herringshaw www.sporting-heroes.net for use of the photo.
1. How did you get involved with Ranelagh?
At a time of great change and great upheaval in our lives: the move from Shetland in July 1983 and career change for my husband David, who had just retired from the Army. Employment and possible settlement in the Midlands. Unemployment, and relocation to London area/Kingston upon Thames. Property uncertainties; disruptions due to construction bankruptcies/occupancy issues. Difficulties with obtaining belongings from Shetland, once in residence! Frustrations living temporarily in a hotel and training, plus trying to select and transfer to another running club within the area. Dave was working temporarily for a sports store selling shoes and I signed up with a local employment temp agency (who incidentally later kindly arranged for Coach Dave to have a place to stay in their LA Branch employees' place whilst I was housed in the Olympic Village).
I think that there is a message here!!!! Despite all the above we kept training; accepted an invitation from the British Olympic Squad to join them in Lanzarote, and I qualified for a slot on the GB Team for LA Olympics via London Marathon 84.
I think Ranelagh put the icing on the cake so to speak. We joined Ranelagh approximately end of 1983 beginning 1984 when my career was beginning to literally take off. And John Hanscomb has been in contact ever since. Bless him!
2. Years active and when did you peak?
1983-1992 Peaked possibly 1987.
3. What is your favourite race and distance?
I don't think I could ever isolate my thoughts to one favourite race. I remember being very fond of competing in hilly races. My favourite distance was always to be 26.2 miles. I really wanted to specialise at the 10k, but had to focus on the marathon. Primarily my muscle make-up was, and still is, 70% slow twitch 30% leeway (tested in Atlanta), so I am well suited to distance and had to really work hard at that 30% to be super efficient and fast at threshold effort.
Fondest memories:
London Marathon. Always wanted to win there. Had to be content with 2nd.
New York City Marathon 1983 and third place.
New York City Marathon 1987 focusing and achieving that major marathon win (then what?)
1984 LA Olympic Marathon and the tunnel experience; still felt and heard to this day.
1984 Columbus Marathon win. Recouping funds because we were broke after the Olympics. Now did not have to race and get injured.
1987 London Marathon. Had to be first Brit woman over the line there 'cos I lived in the States. I was still a Brit wasn't I???
1988 Boston Marathon. To secure a slot on the Seoul GB Team. Achieved but denied, later reinstated thanks to David Bedford. Over-trained to catch up and got injured. Hurt me big time emotionally at that time. Angered Dave.

Every marathon has its story. Of course it does. Training takes weeks. Peaking, such a short opening, and everything has to come right on the day.

4. Favourite Ranelagh course?

I think this has to be running around Richmond Park.

5. Running heroes and inspirations?

I did not have any running heroes. I did not have athletic experience until I commenced at age 34/35-ish. I loved looking at sport books/albums as a child and especially remember a famous British cyclist. I would watch black & white TV (from aged 12) and wonder what it felt like to run down that tunnel in an Olympic Games marathon. No roving cameras then. Now I know!!!!!

Running in the first women's Olympic marathon was like running with one's heroes, I suppose. It was a Who's Who after all. Faces seen only in magazines and on the screen. I can remember thinking "Wow". The depth of field has never been the same. I keep in touch now and then with Joanie Benoit-Samuelson when she breezes through Bend, Oregon, en route to where??????? I usually drop everything and meet up with her ------- would that be my hero, or is it just a desire to keep a link open with that wonderful interlude in my life. Who knows? Ha ha!

6. Typical training for the summer and winter? (what races were you training for?)

Typical training for winter was 'ticking over' mode (active rest) and to balance any muscles imbalanced by a busy year. My seasons were Spring and Autumn Marathons. I raced other shorter distances - the main aim being the marathon though, so, often I was racing the shorter distance races non-peaked and purely off the strength of marathon training.

7. Favourite session?

Last long run before tapering for a marathon!!

Maximum Aerobic Pace Test - for fitness level prior to moving on to Anaerobic conditioning.

8. What were your training paces?

Ouch! I hope this helps.

Throughout anaerobic Conditioning - 85/90% MHR
Time Trial 3000m at S/L 9.53 (timed possibly close to marathon)
Time Trial 5000m at S/L 16.53 (Timed possibly close to marathon)
1000's 3.14 + Altitude Drop down to 800's if I'm tired.
800's 2.35 + Altitude Drop down to 600's if m tired.
600's 1.55 + Altitude
200's 37 + Altitude Only carried out as leg turnovers following hefty quality session
Long Runs usually Sunday and Wednesday 70-75% MHR. Recoveries usually 70/75% MHR. Used Heart Rate Monitor chiefly to make sure I ran recoveries properly. I had a tendency at the beginning to run too fast.
Heart Rate Monitor was used also for Maximum Aerobic Pace Tests. Today, I would have to use HRM for speeding up!!!

9. What strength work did you do?

Mainly hills short and long. Weights. light / long reps. Abandoned well before marathon and backed off on for certain short build-up races for the extra pokey.

10. Favourite running memory?

London Marathon 1987 - Seeing the finish clock on Westminster Bridge and saying to myself, "Bloody Hell, this is a good day!" I think the clock read 2.24+. I crossed the line in 2.26.51 - fresh as a daisy. Ye-hah for running with a free brain!!

Olympics 1984 - Crossing the finish Line (with instructions from Dave to behave myself seeing as I was a rookie) I became 16 yrs old and crossed the javelin competition which was live (twice) looking and cheering for Joyce and Sarah. Was well told off by an official, and became 39 again. Saluting the British fans with Joyce and Sarah. Dave meanwhile had started to lose his hair!

11. Best piece of running advice?

Be a team - coach and yourself. Listen only to coach; believe in coach, with plenty of feedbacks, essential communication, hence possible amendments to your schedule before it is right for you.

Learn, know thoroughly, and understand fully, your training schedule. Know the reasons why you put your foot outside the door to train Listen to your body also - it sends plenty of messages.

When it is an easy run, please keep it easy; otherwise, quality days will not improve your performances in races.

Oh you marathon mileoholics ---- understand and control temptations to run more during your tapering phase, and know what and how long a tapering phase should be.

You are supposed to be frisky on the start line, otherwise you just blow up your race, and blow up all those weeks you have spent training.

Coach has to be really vigilant here. This is where he/she becomes a counsellor; mucho!!!

12. What changes have you seen in the sport?

Elite women marathoners competing in a race - within a group now. Requires more precision and psychological toughness I should imagine - no matter how fit and raring to go you are.

Depth in elite marathon men and women here in the States seems to have slackened off big time. Possible lack of long term commitment? Or, breaking their talent off into tangents and mixing sports; being local heroes and not venturing or wanting to venture to the next levels. It's possible in this big country, that other well paid sport modalities have taken our best talents.

Risk of being caught re substance abuse is now entering distance running. Possible adventures with short cuts in training (of which there are none of course - the world might be changing extremely fast, but the human body is not, and neither is the recipe for distance running).

Possible lack of education, or, denial re correct coaching methodologies even if experienced coaches have achieved wonders with their athletes, and know how to coach both levels.

More depth in fields with Kenyans. Don't blame them. It is a way out from their way of life in Kenya, or they can improve other lives over there. They are intelligent and know how to train properly, and have the added perk of being born, raised and trained at altitude by those who went before. They are built light boned, so are propelling a light body forward.

Hopefully in the near future here in the States we shall see native American Indians doing the same. They are gifted at distance; have been for years, and are raised, trained and live at altitude, but first they have to get well past their reservation mindset and reservation habits and do what the Kenyans are doing; for the sake of their reservation elders.

For the athlete not born and raised at altitude, well, I am beginning to doubt the benefits of going there, especially where leg speed or the decline of it could happen and does happen. One can train so much more at sea level.

There has been an increase in runners/joggers/walkers in races here for a while now (brings monies in) but no breakthroughs with male and female elites - oh there was one male in Boston this year (Hall) -- he is in the ball park now, but, that is just one. No depth in the women either --- where are the replacement Deena Kastors?

We need coaches of the likes of Joe Vigil, Arthur Lydiard and John Whittmore ---- so many folks who call themselves coaches. Yuck!!

Fast marathoners seem to come up re-educated from, 5,000m and 10,000m background. Great! Essential to be able to change pace especially in the final stages of 26.2 miles.

WORK VO2 TO IMPROVE

AND VO2 WILL NOT GLUE YOU!!